GET TO KNOW US!
CloneMyKey® started in 2013 as the first company to offer copying services for key fobs and cards. Our specialty remains copying radio frequency identification (RFID) based keys but we also support other technologies including high-security smartcard, iButton® and magnetic key technologies.
From apartment & condo dwellers to large corporations our bulk pricing program automatically starts discounting at just 2 keys. Previous customers include Marriott, Samsung, & dozens of property management firms.
We test every key that leaves our facility to ensure it works. All keys are covered by a minimum 1-year limited warranty and a 90-day no questions asked return policy. We even provide a return label for domestic orders! Click for more details
We take protecting your data very seriously! We built our system to ensure customers billing and key data are safe. All data is encrypted and stored on a secure network. Click for more information. Caution, it gets nerdy!
FOR MORE INFORMATION ABOUT US
1st TO OFFER KEY FOB COPYING
Started in 2013 by a UW-Madison computer science grad that needed an extra key fob. Since then, CMK has saved customers an estimated $5 million by offering a low-cost alternative RFID key duplication service
900+ Real 5-Star Reviews
Our customers love us! Check us out on Yelp & Google
90-DAY MONEY BACK
You have a full 90 days to return your keys for a refund
Ultra Fast Processing
Most orders received before noon will ship the same day
EVERY KEY TESTED
We test every key to help ensure it's a perfect copy
Optional Key Storage
All stored key data is kept safe in offline & encrypted storage
EARN FREE KEYS
We have a generous loyalty program for returning customers
FREE SHIPPING & Returns
We even provide return packaging
Domestic Outgoing Only - $30 min purchase required
DISCREET PACKAGING
Our packaging contains no external advertising
Easy Reordering
Reordering additional keys takes less than a minute
Engineered To Fit Between Your Cellphone & Protective Case
This is the most advanced key we offer! This key is engineered with interference reducing technology that allows it to operate from between a mobile device and it's protective case.
Most cellular enabled devices emit signals that can interfere with RFID based keys. We've included a specially designed carbon backing that will not interfere with cellular operation but also allow users to open doors using their phone — just like with their regular key.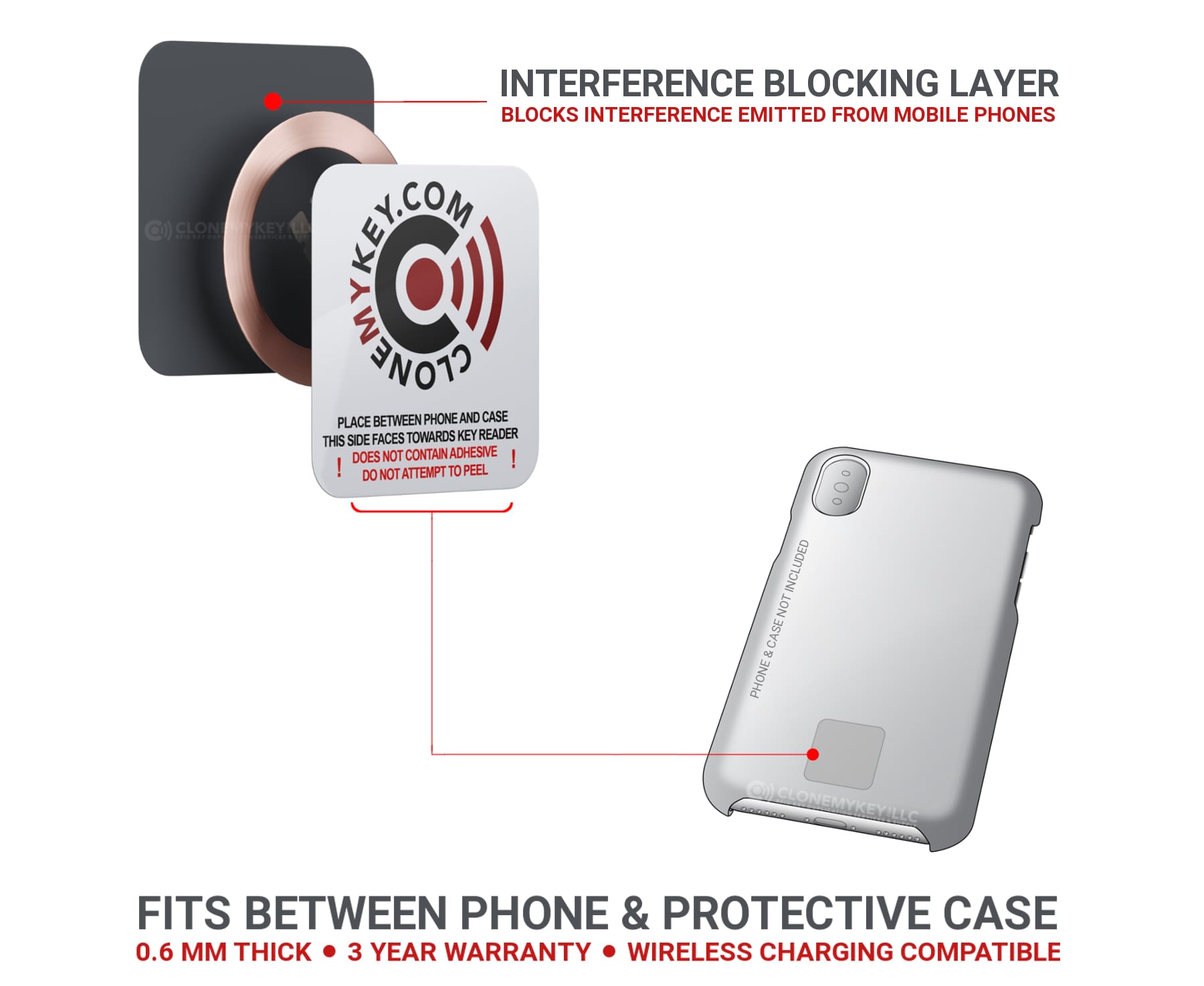 How Can I Copy My Key Fob?
Copy your key fob in 4 easy steps
Step 1 – You need to determine it's format being used by examining your key fob.
Step 2 – Decide which key copying option is best for you. Options are based on your keys format. Often simply submitting a photo of your keys serial number is required.
Step 3 – Complete secure online checkout.
Step 4 – Receive a working duplicate key fob. Your duplicate key(s) will work as long as your original key remains active in the access control system.
Specifically Engineered for the Keyport Pivot Key Organizer
CloneMyKey and
Keyport
have teamed up to engineer an RFID key that fits securely into the Keyport Pivot product line. Developed by some of the best engineers in the industry, the Keyport RFID Key squeezes all the technology needed into an ultra-thin (1mm) form factor.
Use our wizard to identify your keys format to determine if your key is compatible with the Keyport RFID Key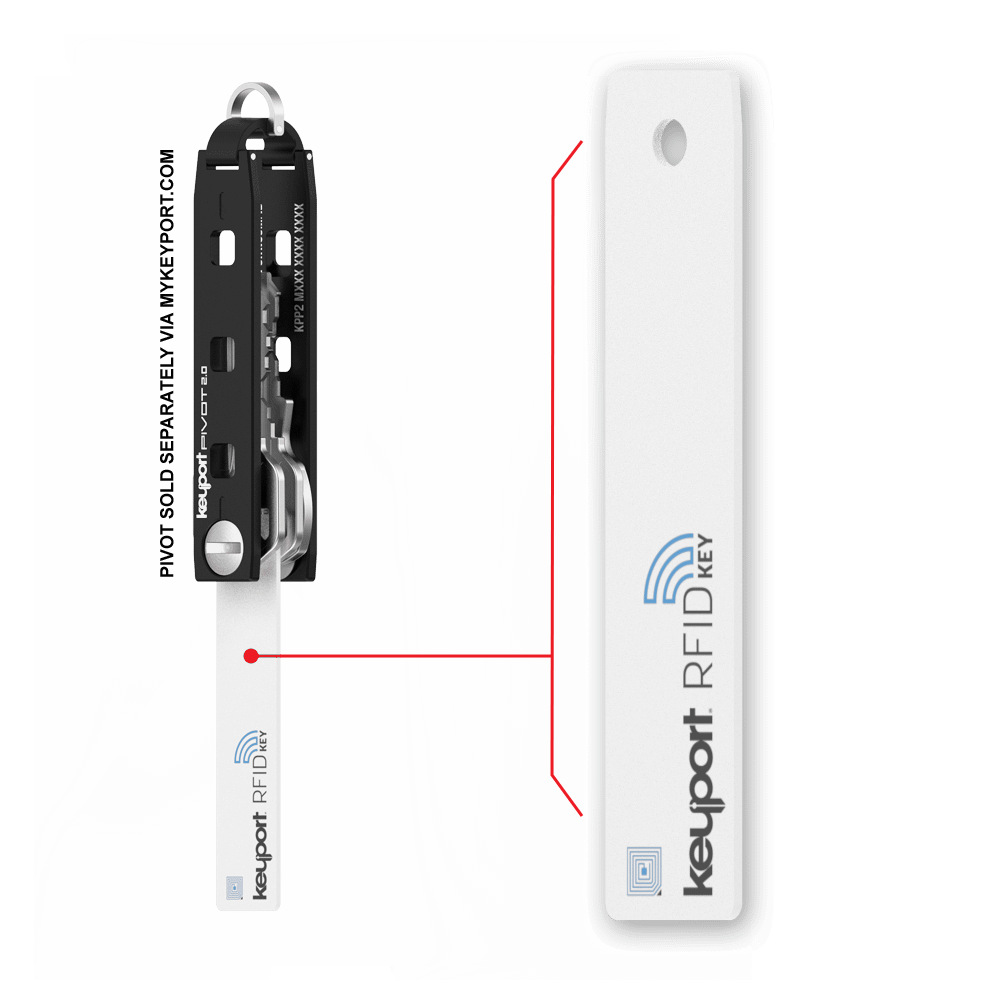 Does your remote have a proximity chip installed inside? We can clone that chip onto a much smaller key!
We can clone the embedded chip inside push-button remotes that often allow users to access common doors, and elevators. We cannot clone any remote functionality that requires users to press any of the buttons.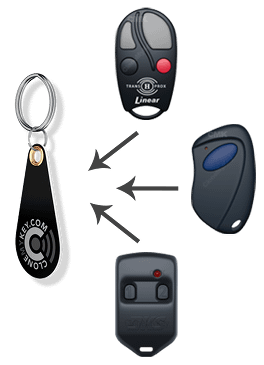 "I just uploaded a picture of my fob..."
I'm not sure how they do it, but I just uploaded a picture of my fob and within days received a perfectly working copy.
Mark S. | May 2018 on Yelp Reviews
"Shipped within 40 minutes of placing the order"
"WOW! I don't think I've seen a company this professional and efficient, ever! The product was shipped within 40 minutes of placing the order. Amazon and Walmart can't hold a candle to these guys. The product is exactly as described: works perfectly! Thank you!!!"
Steve A. | March 2019 on Google Reviews
"The entire process was very simple"
I rarely write reviews but the customer service and CMK products deserve to be praised. The entire process was very simple. I was one of the lucky ones who had a key duplicated without needing to send it in. Took a photo, submitted my info, and 3 days later I had a duplicate fob. Everything works great. I highly recommend them to anyone.
A W. | November 2017 on Yelp Reviews
Didn't know this was possible.
"I made the mistake of trying to use one of CloneMyKey's competitors first. I ended up giving up my fob for a week and upon return with my keys, none of them worked… I then contacted CloneMyKey and described my fob key and they indicated that they believed it wouldn't be a problem to replicate. I overnighted my fob to them and the next day, received two follow up e-mails indicating that it had copied properly and described the extra steps they went through to verify that it worked as it should have. The next day, I had my original fob and all of my copies and they worked perfectly!! I could not be happier with the process, price and communication throughout that CloneMyKey provided. Go here first!!"
Pier W. | January 2017 on Yelp Reviews
5-Stars!!
This is a long overdue review, I owe them a good review since 6 month ago. This is the best place to duplicate your FOB key. I asked [Name Removed] they said they cannot do it, I asked [Name Removed] and he tried to do it but end up cannot do it, cause they said my FOB key is more complicated. So I tried clonemykey and not only they do it fast they make my fob key the same look as my original. They are very fast, reliable and nice people. Thank you so much for making my life easier, no more hassle when my family visited here or if I need a pet sitter.
Debbie P. | April 2018 on CMK Reviews
Seamless, Reliable, Ridiculously FAST!
Sent my keyfob out on a Monday via Overnight Shipping. Got an email saying that CloneMyKey had received my package on Tuesday. Got an email just a few hours later saying that my key had been copied and both keys were on their way back to me. Got my original and my clone Wednesday morning. It TOTALLY WORKED!!!
Deborah | July 2015 on cmk Reviews
Excellent clone of a tricky key
" I had a very finicky key fob other services indicated they were unable to clone, but these guys did it well. Very importantly, as they were able to clone it as a card I now no longer need to carry around a separate keychain fob- I can now simply hold my entire wallet up to the reader to open doors and use the elevator- there's no need to remove the card in order to use it. The value of having one last thing and not needing to fish for a fob a half dozen times a day is very nice. "
happy customer | January 2018  on CMK Reviews
"Just had to send in a photo and got it two days later..."
Greated. Worked exactly as I needed. Just had to send in a photo and got it two days later. I bought $150 total of different RFID copiers online and none of them worked. This did wonderfully. Will definitely be using them in the future.
Harrison K. | April 2018 on Google Reviews
"They did not need my key."
I was very impressed!  They did not need my key. They were able to duplicate it and it actually works!  The keys arrived fast and I'm very thankful! Thank you Clone My Key!  We will definitely use you in the future
Tiffany H. | April 2018 on Yelp Reviews
"They were super quick"
They were super quick with the cloning, and I didn't even have to send in my key fob! I would definitely use their services again for future fob duplications.
John T. | November 2017 on Yelp Reviews
These are GREAT! Every single one works like a charm.
" I found Clone My Key doing a Google search seeking a trusted company who could reliably copy our encrypted office key cards, onto key fobs. I decided to contact two companies, and after reading the reviews on YELP! decided to go with Clone My Key. It's been a great experience! I emailed them asking a ton of questions, and sent them a photo of our HID cards to ensure they could help. They promptly replied with confidence and answered all of my questions. The next day, I mailed them my card and about 4 days later had all of my key fobs as requested. I went with black, without logos. These are GREAT! Every single one works like a charm. The range seems as good, if not better than our cards', and they are SO MUCH better than the chunky and enormous cards we were issued for our office building…"
Heather W. | April 2017 on CMK Reviews
So easy!!
I went for over a year with only one key fob to my apartment building, which made it a huge pain to have anyone stay with me, or even have back-up keys for me in case I lost mine. Someone told me you could clone key fobs (which hadn't even occurred to me), so I searched and found Clone My Key. I can't believe I waited so long for something SO EASY! I sent a pic of my key fob to confirm it was a model they could duplicate and got a response in less than 24 hours. They provided a link for me to confirm my residence, since my fob has a serial number, and once I did that and attached the pictures I signed up for rush shipping (since I had someone staying with me at the time and needed it ASAP) and I literally had the new fobs the next day! They worked at all fob access points, and they were smaller and slimmer than my original. From my initial internet search to receiving the fobs was about 48 hours…
Sara R. | April 2018 on Yelp Reviews
Perfect. Just Perfect.
I was having the same problems as described by other users as my building only issues one per apartment and a quick google search led me to clonemykey.com. I didn't think it would be this easy, but dear god, it was! Sent it for rush overnight and viola, there it was! I went from one to four key fobs, now having extras for guests and whatnot. Communication is great too as I had a few questions. Fast, reliable, and just fantastically nice people. Keep up the great work!!
Mike E. | September 2015 on CMK Reviews
"Sticks on to my iPhone so I can just put my phone to the sensor"
I had extra key fobs made for my apartment at a very cheap price!! Instead of ordering just fobs, I also ordered a sticker that sticks on to my iPhone so I can just put my phone to the sensor instead of grabbing my keys and using the fob. I never write reviews but this place deserves it. Thank you for your business!
Samantha H. | August 2020 on Google Reviews
A model for other companies to follow!
Before sending my key in I called CMK because I had some questions about the service and wanted to make sure my key fob was compatible. I knew right away when I heard the automated voice on the phone say "at any time press zero for a real person" that I was dealing with a great company. I got all my questions answered and they even told me the total turnaround time for shipping from Vancouver Canada.
Unknown | October 2015 on CMK Reviews